TIPS & RECIPES
Use Patatas Nana to create Gourmet recipes
While everyone adds artificial flavors, we take away, to give a pure product in its integrity
and let the chefs and the final customers experiment with combinations and new recipes, here are some examples!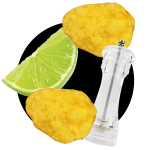 patatas
with lime and pepper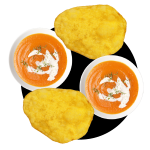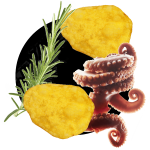 patatas
with octopus and rosemary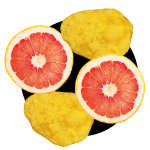 patatas
with grapefruit juice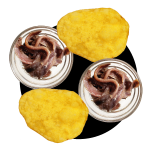 patatas
with marinated anchovies in vinegar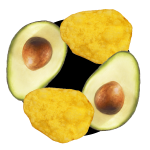 RECIPE
TORTILLA DE PATATAS
INGREDIENTS:
– Patatas Nana
– Eggs
– Black truffle
METHOD:
Take a bag of 140 grams of PATATAS NANA, put them in a bowl with 10 eggs and plenty of black truffles. Beat everything vigorously and cook the omelette in the pan leaving the creamy heart.
Patatas and Guacamole
Like in Mexico
Patatas Nana, thanks to their genuine goodness, lend themselves to be protagonists of endless recipes. Try it in Mexican style: lime and pepper avocado for a perfect guacamole!
Patatas, huevo y pata negra
Like in Spain
Patatas Nana, huevo y pata negra.
A simple recipe that knows how to amaze.
Patatas, lime and pepper
Like in Cuba
In compliance with the Cuban tradition, add just freshly squeezed lime juice and fresh mint leaves. The result will be unexpected.