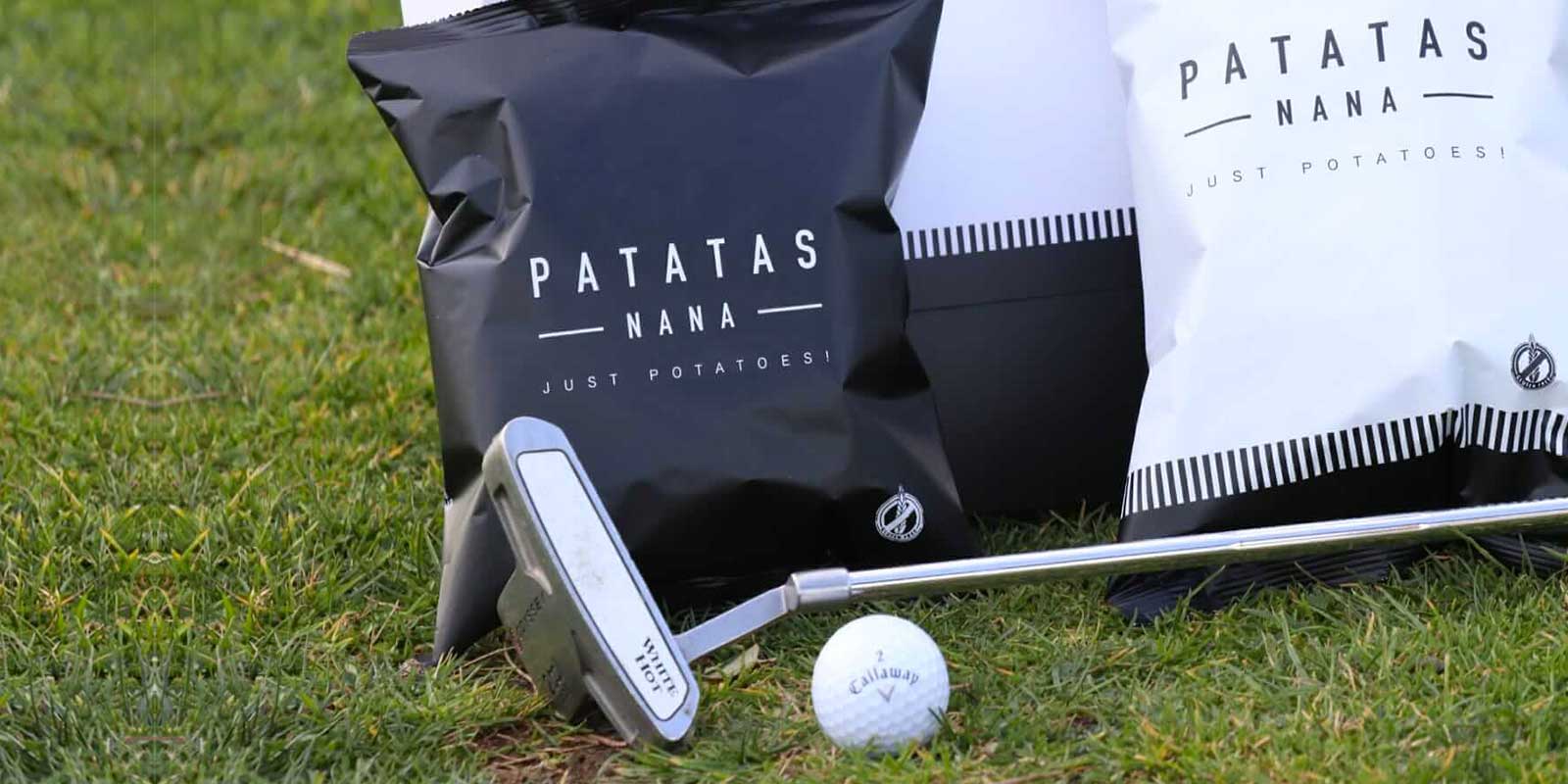 Patata Nana was chosen as the Food Partner of the 2019 golf cup
Patatas Nana was chosen as a food partner of the golf cup that will see us as protagonists in the aperitif area until September 2019 in the best Italian golf clubs.
The seventh edition of the "Green Velvet Travel Golf Cup" circuit got underway on Saturday 16 March, in the splendid setting of the Acquasanta Golf Club in Rome, organized by Gian Carlo Nannini and Sara Vicario, respectively president and operational director Velvet.
About us:
"Thanks to Stefano Masullo, managing director of Golf People Club Magazine, among the many sponsors of the" Green Velvet Travel Golf Cup "2019 also stands out the company Patatas Nana. Quality, tradition, art and passion are the ingredients of these French fries which, together with the best raw materials, they give rise to extra crunchy chips with an incomparable taste. The potatoes are of the Agria variety and are grown according to tradition in the area of ​​the Vega Granadina, in Andalusia (Spain), to then be irrigated by the pristine water of the Rio Dùrcal that is born on the Sierra Nevada and gives them a unique flavor.The production is entirely artisanal: the potatoes are matured in the earth, then harvested, washed, lightly peeled and cut into slices.They are fried in pure sunflower oil (the best because tasteless) at 155 °, are finally drained, dried, left to cool at room temperature, salt with pure salt until marine. "
Here you can find the complete article about us: www.ilgolfonline.it
These are the next events:
Saturday 23 March: Golf Club Franciacorta
Saturday 30 March: Golf Club Milano
Saturday 4 May: Varese Golf Club
Saturday 11 May: Zoate Golf Club
Sunday 2nd June: Golf Club Tolcinasco
Saturday 8 June: Golf Club Riviera
Saturday 7 September: Ambrosiano Golf Club
Thursday 12 September: Monticello Golf Club
Saturday, September 28th: ​​Villa d'Este Golf Club

Ten stops on the most beautiful fields in Italy. The first race was played at the Golf Roma Acquasanta; next appointment Saturday 23 in Franciacorta.
Finally here we find some shots from the 1st stage of the Green Velvet Travel Golf Cup at the Golf Club of Rome Acquasanta ASD
It is very important for us to thank the agency Green Velvet Group